Free Expression on Campus Panel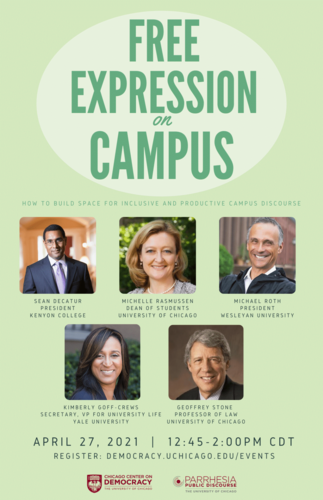 Kimberly Goff-Crews, secretary and vice president for university life, will participate in a University of Chicago virtual panel on free expression on campus on Tuesday, April 27, 1:45 –3:00PM ET.
The panel sponsored by the university's Chicago Center on Democracy and Parrhesia Program for Public Discourse asks how universities can build space for inclusive and productive campus dialogue.  Ms. Goff-Crews will be joined on the panel by: Sean Decator, president of Kenyon College; Michelle Rasmussen, dean of students at the University of Chicago; Michael Roth, president of Wesleyan University; and Geoffrey Stone, professor of law at the University of Chicago.
Yale is committed to fostering an environment that values the free expression of ideas.  One of the goals of Belonging at Yale, which Ms. Goff-Crews leads, is developing a university-wide strategy to deepen inclusive practices that encourage participation at all levels in university life, including through practicing difficult conversations.  The Office of the Secretary and Vice President for University Life also shares guidance regarding free expression and peaceable assembly for students at Yale.