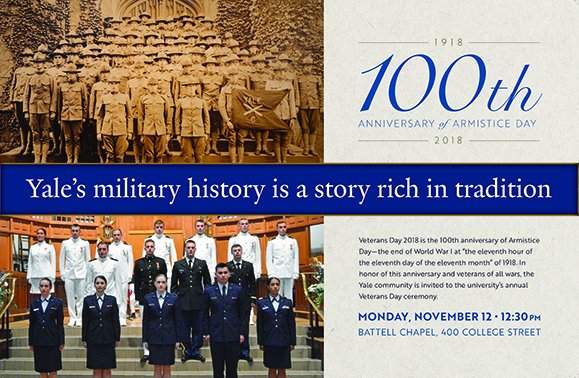 Calendar of Events
Sunday, November 11
Monday, November 12
Veterans Day Ceremony | Battell Chapel | 12:30 - 1:30 P.M.
Throughout the morning and early afternoon, Yale Students for Veterans (YSV) will offer passerby the opportunity to plant flags on Cross Campus in honor of veterans. Flags will be provided by YSV.
Tuesday, November 13
Same Sex Desire in WWI: a Masculine, Valorously Decorated LGBTQI+ Movement.
A conversation with Professors Sarah Cole (Columbia), Richard Kaye (Hunter College), James Najarian (Boston College). This event is co-sponsored by the Yale Office for LGBTQ Resources and the Department of English.
WLH 208 | 5:00 p.m.
Thursday, November 15
Lincoln's Code: An Armistice Day Reflection on the Laws of War in American Life
Professor John Witt | Sterling Law Building, Rm 129 | 12:00 p.m.
Saturday, November 17
Memorializing War: British and American Monuments to the Great War
Paul Kennedy, J. Richardson Dilworth Professor of History; Director, International Security Studies
Whitney Humanities Center | 1:00 p.m.
The Literary Legacy of World War I: Screening of "Paths of Glory"
Following the film, join Jennifer Orth-Veillon, Brianne Bilsky, and Peter Molin for a conversation about how the novels and memoirs of WWI shaped the rest of war literature in the 20th century.
Whitney Humanities Center | 2:00 p.m.
Ongoing