Yale Well Tea with Philippe Costeletos '87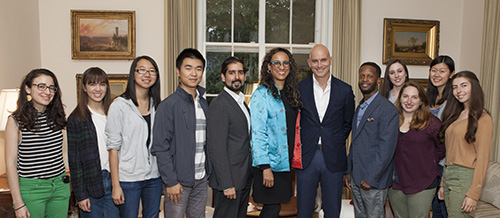 On Friday, November 3, Philippe Costeletos '87 joined Secretary and Vice President for Student Life Kimberly Goff-Crews and students for a tea sponsored by Yale Well. A member of President Salovey's Council on International Activities, Mr. Costeletos is a leading figure in private investment. He has longstanding interests in how a Yale education can equip students to face adversities, build their self-awareness, and cultivate good habits. The conversation focused on what it means to thrive at Yale and how we judge personal and professional success.
This tea was sponsored by Yale Well, which supports students' holistic growth and development, in conjunction with Life Lab, a project of Yale Center for Emotional Intelligence. Yale Well's website links to university resources that help support students move well, eat well, mind well, rest well, love well, seek well, work well, and save well.