University Tea with Michael Warren '90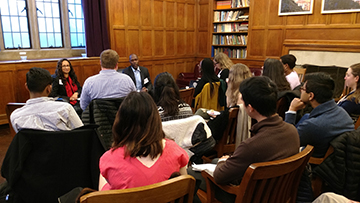 Twenty students joined Secretary Goff-Crews and Michael Warren '90 for a University Tea to discuss Mr. Warren's experiences serving in the Obama administration and in strategic consulting. The tea, held on Thursday, November 30, provided students the opportunity to ask questions and learn about Mr. Warren's career, his Yale experience, and advice he can share.
In 2010, Mr. Warren was appointed by President Obama to serve as a member of the Board of Directors of the Overseas Private Investment Corporation (OPIC), the U.S. development finance institution. During the first term of the Obama administration, Warren was a senior advisor in the White House Presidential Personnel Office and was a member of the Obama-Biden Presidential Transition. He also served in the Clinton administration. Mr. Warren is currently Global Managing Director of Albright Stonebridge Group, where he leads the work of the Global Practice, advising on strategy and investment decisions around complex global business issues at the intersection of the public, private, and social sectors. He serves on the School of Management's Board of Advisors, the President's Council for International Activities, and the University Council. Mr. Warren graduated from Yale with a B.A. in History and was a Rhodes Scholar at Balliol College, Oxford.
The University Teas were founded in 2014 by the Office of the Secretary and Vice President for Student Life to give students opportunities to talk to accomplished alumni about their careers, Yale experiences, and campus happenings. The University Council was established in 1947 as an advisory body to the President of the University for the purpose of studying and making recommendations on particular facets of University life.