A Letter to Students from Secretary and Vice President for Student Life Kimberly Goff-Crews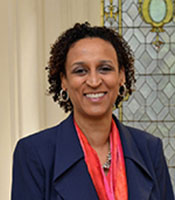 Dear Students,
As you begin to settle in at the start of term, some of you for the first time, I am excited to welcome you to campus and to extend my wishes for a great semester and academic year! Amid the eventful first weeks of term, I would also like to take a moment to introduce you to the initiatives that student life professionals will be working on in the year ahead to support your experience at Yale. These initiatives are often influenced by your feedback and suggestions as students, and all are designed to help you live happy and healthy lives, engage with each other and your community, learn to navigate challenges, and acquire the skills you need to succeed. I am happy to note new additions to the Office of the Secretary and Vice President for Student Life: Marichal Gentry, Associate Vice President for Student Life and Senior Associate Dean of Yale College, and Lisa Brandes, Assistant Dean for Student Affairs and Director of Graduate Student Life, along with their respective teams. The integration of offices will allow for a more cohesive and comprehensive range of student life services that will help to achieve the initiatives below in the year ahead.
 
Student Life Initiatives for 2014-2015
Beginning this fall, administrators, faculty, and students will continue to build on the work of the past year. As always, these efforts will be guided by our overarching goals to ensure that you have the resources needed to live meaningful lives and to create a supportive environment in which you are given the opportunity to become your best possible selves. The following initiatives and projects for the year include:
 
1. Student Life Website

Throughout the past year, students have expressed the desire for a comprehensive online guide to student life information.
To help you navigate the wide network of websites at Yale, we have created a single online resource, available at studentlife.yale.edu, which aggregates services and opportunities available at Yale and in New Haven. A "one-stop-shop" entry point organized by category, the site links to other websites at Yale and beyond that provide you with helpful information on housing, dining, New Haven events, health and wellness, and more. Based on the feedback you provide to student.life@yale.edu, we will continue to update the site with information you find useful.
 
2. Mental Health and Wellness
Last year, we began examining ways to improve mental health and wellness on campus after students voiced their recommendations for strengthening the well-being of our community. This year, we will resume conversations with student leadership about ways to support you and to inform you of the services available not only in moments of crisis, but at all times. Faculty, staff, and students will continue to examine the current types of support offered at Yale and explore ways to teach valuable skills intended to increase your overall health and resiliency. We will also look at ways to create a positive campus culture, promoting open dialogue about the expectations, successes, failures, and struggles that we all face on campus and beyond. We will welcome a new partner in this discussion, Dr. Andrew Gotlin, who will begin his role as Chief of Student Health and Athletic Medicine in November.
As a reminder of the mental health services offered to all students, Yale Health's Mental Health and Counseling department will be releasing a video shortly. Current resources ranging from individual counseling options to peer support programs can be found on the Health and Wellness section of the new student life website.
 
3. Alcohol Harms Reduction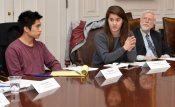 Throughout the year, the Alcohol Recommendations Implementation Committee (ARIC), which includes students among its membership, will continue implementing strategies for the reduction of high-risk drinking and to construct programs that promote safe social event planning and practices. I encourage you to read through the new Medical Emergency Policy, which will take effect for Yale College students this fall, and to offer your comments and feedback at the Alcohol and Other Drugs Harm Reduction Initiative (AODHRI) website.
 
4. Graduate and Professional Student Housing Improvements
The Advisory Committee on Graduate and Professional Student Housing will carry on its efforts of the past year to advise the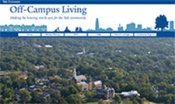 administration about current housing issues. Due in large part to the graduate and professional students on the Committee, significant improvements to the graduate and professional housing experience have already been implemented. A redesigned off-campus living website has been launched, which will allow you to search through listings and read other students' reviews of housing in and around New Haven. This year, we will also continue discussions with New Haven landlords, who have already agreed to implement new policies to address your concerns regarding security deposits and timely responses to maintenance and service requests. Finally, the construction of a new graduate and professional housing facility on Central Campus is planned, and the Committee will continue to offer design recommendations based on your housing needs and interests.
 
5. University Teas Program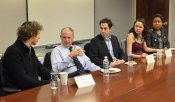 Beginning this fall, we will offer more opportunities to engage with Yale Corporation Fellows and other alumni through our second season of University Teas. Once again, we will provide occasions to connect with these alumni leaders in an intimate setting and to learn more about their journeys at Yale and elsewhere. Be on the lookout for University Teas announcements throughout the year on the Office of the Secretary website.
 
6. Integration of Student Life Services
Finally, our focus this year will also be spent leading the integration of student life programs and services in Yale College and the Graduate School of Arts and Sciences. This initiative will facilitate more coordination across University lines, give Yale students more access to resources and programming from across the University, provide more student life support to many of the professional schools, and create a sense of community that extends beyond individual schools. For information about the benefits that will result from this reorganization, please read the two announcements sent to undergraduate and graduate students earlier this month.
I encourage you to share your feedback and suggestions about these initiatives and to suggest others by emailing me at student.life@yale.edu. Your student leaders at the Yale College Council, the Graduate Student Assembly, and the Graduate and Professional Student Senate are also interested in hearing your ideas. My regular meetings with them throughout the year serve to connect our diverse student body with the University administration to create pathways of communication.
My colleagues and I are eager to start our work for the year and to continue to provide a supportive and increasingly accessible environment in which you live and study. I look forward to attending, viewing, and hearing about your work, too—in the lab, in the galleries, on stage, and in New Haven—throughout the coming year.
   
Best wishes for a great fall term and a wonderful year.

Kimberly M. Goff-Crews
Secretary and Vice President for Student Life