Goff-Crews discusses importance of the holistic Yale experience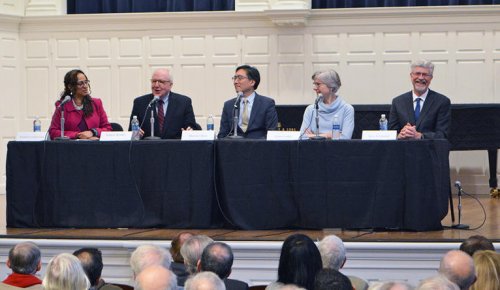 At the 77th Assembly of the Association of Yale Alumni (AYA) and the Yale Alumni Fund Convocation Kimberly Goff-Crews, university secretary and vice president for student life outlined the vision for student experience across Yale: "Students at all schools within Yale will have an experience that is holistic and similar to each other."
Serving as moderator for the panel "Maintaining Communities Within a Community," Goff-Crews stressed the priorities of student life that should be supported and maximized for all Yale students: the academic experience, creative practice, intellectual curiosity, personal growth, university commitment, and ethical conduct.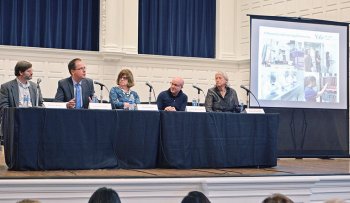 Maria Trumpler, director of the Office of LGBTQ Resources, participated in the panel "Creating New Communities" at the Assembly.  For Trumpler, the Office of LGBTQ Resources is a community space. "It means a lot to have a space on campus that reflects this point of identity for people who study, teach, work, and do research at Yale," said Trumpler.
She explained that community can arise from shared experience as much as shared space, and sharing hot beverages could still give people in the LGBTQ community at Yale a reason to come together.
Read more about the Assembly on Yale News.