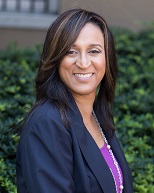 Kimberly M. Goff-Crews, B.A., J.D.
Kimberly Goff-Crews is secretary and vice president for university life at Yale. She is responsible for the university's work to further diversity, equity, and inclusion in service of the university's mission, and ensures the alignment of policies and procedures to maximize support for all students. She also oversees the university chaplaincy and the conduct of official university functions, including Commencement.
Ms. Goff-Crews leads Belonging at Yale. This initiative includes the university's diversity, equity, and inclusion efforts and fosters a learning environment and campus community in which everyone feels a sense of belonging. In this role, she works closely with the deans and other university leaders, committees, students, faculty, and staff.
Before returning to Yale, Ms. Goff-Crews was vice president for campus life and dean of students at the University of Chicago. She also served as the dean of students at Wellesley College and as chief of staff to the president and director of planning at Lesley University.
Ms. Goff-Crews is a graduate of Yale College and Yale Law School. After several years in private law practice, she became an assistant dean in Yale College and director of the Afro-American Cultural Center.
Ms. Goff-Crews is a commissioner for the New England Association of Schools and Colleges and a member of the board of United Educators, an insurance company that supports educational institutions, and the International Festival of Arts and Ideas. She is also a member of the 2020 NASPA – Student Affairs Administrators in Higher Education Annual Conference Leadership Committee and chairs the Vice Presidents of Student Affairs Initiatives.